Trinity Writers' Group 2020 Holy Week
Greetings! Welcome to the Trinity Writers' Group collection of Holy Week writings. The index of writings is listed below. Click a title to read it. These pages are best viewed from a full screen computer or ipad. If you're viewing this page from a phone, you will have to scroll below the "Index of Writings" to view the writing. You can also download a pdf copy of these writings.
SPRINGTIME BIRDS AND BUNNIES
Oh, how I have missed sitting on that porch of our former home, near my bird feeders and where I could watch and enjoy the few small wild "critters" which came to call. That porch was like a second den with sofa and chairs, very comfortable for any time of day or evening, where we could enjoy a breeze and see across the fields and woods behind us.
One particular spring there must have been something special in the air. That year produced an abundance of birds which kept me busy buying seed and filling feeders. We could enjoy our Cardinals, Finches, Bluebirds and Wrens there because there was no large open space for the black bird swarms to come in and take over like we have now, living near the marsh. And, the Hummingbirds were there in force. Here on Waterview Circle we are lucky to see more than two. There we would have two or three feeders full with them chasing each other away. I have pictures of Hummingbird feeders full and other feeders full of Goldfinches and Cardinals, my favorites.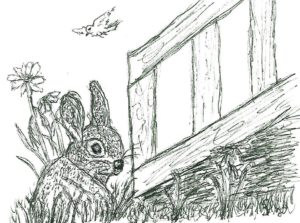 We had a ramp built so our good friend Billy could get in easily and that spring it became home to a family of rabbits. Since our dogs were mostly inside, the bunnies didn't seem to be bothered by them and would disappear under the porch when the dogs went out. I could sit on the porch and watch the baby bunnies romp around the yard playing for long periods at a time. Noises didn't seem to bother them and, unless I stood up and moved very close to the screen they were fine. If they were startled they ran under the ramp, back to mama.
Frank had three or four Martin houses which were full and over flowing. In the early evenings the birds would line up on the power lines that ran behind our house and there were far too many to count – probably a hundred or more. Since several neighbors had Martin houses also, there was always competition as to who had the most occupants.
Strangely enough, we rarely saw a squirrel. There were pecan trees in the neighborhood but apparently the squirrel population had not found our little corner of the world. When squirrels would show up one neighbor would trap them and take them to the country and let them go so they didn't have much of a chance to multiply. In our current neighborhood they have taken over and we rarely get a pecan – the squirrels get them all before they hit the ground.
That spring was a very special one. With my camera I spent many happy, peaceful hours on the porch, watching God's creatures and enjoying the peace and beauty they bring to our lives.