(This is a Navigation Bar. Click on a topic listed above to see that page.)
Make A Joyful Noise!
Trinity has always been known for its great and powerful music program. For many, music binds the elements of the worship service and enhances the experience.
Performing Groups of Trinity
The music ministry at Trinity involves the work of many dedicated people who perform and lead the various groups of our church. Those groups include Chancel Choir, Praise Team, and Children's Choir. Musical group leaders include Sara Vogeler, Becky Ringler, and Kelly Smith. Our music groups are open to all.
Chancel Choir
The Chancel Choir leads the 11:00 Traditional Service. The choir is comprised of more than 20 talented and dedicated voices. Rehearsals take place on Wednesdays from 7:00-8:30 PM in the Choir Room. This group is led by the Director of Music & Worship Arts, Sara Vogeler. The choir is a cherished group in the church and is open to all.
Praise Team
The Praise Team leads the 9:30 Rivers of Life Praise and Worship service. The praise team is blessed with wonderful volunteer musicians. Rehearsals are Thursdays from 7:00-8:30 PM in the Family Activity Center. This group is open to all and is led by the Director of Music & Worship Arts, Sara Vogeler.
Children's Choir
Children's choir meets Wednesday nights in conjunction with Kingdom Kids. This groups is led by Kelly Smith and is open to elementary aged children.
Some thoughts about music at Trinity:
There were so many wonderful experiences in the 34 years I directed the Trinity choir. There was Heppy (J. O. Heptinstall), a special tenor who was always at choir practice, able to read every note in the tenor line. There was Glenn Pitman, who brought many things with him to Trinity, chief among them being the musical, GRASSHOPPER, which we sang at many ice cream socials. And the special choir, 36 members strong, who made a fund-raiser recording. That choir was filled with talented young people as well as older adults. And finally, there was George Kean, with his beautiful tenor voice who sang "O Holy Night" every year at the eleven o'clock Christmas Eve Service. – Doris Rea Gwaltney
The Organ which we enjoy during each service in the sanctuary was built by the M. P. Moller Company of Hagerstown, Maryland and originally installed in 1952. When the sanctuary was increased in size in 1983, the organ was reinstalled with minimal work performed. But, by 1992, it was showing its age with leaks, hisses, notes slow to stop playing, and chimes that mostly did not work. So we undertook the renovation and rebuilding of the organ, learning in the process just how complicated organs can be, how each sounds different according to its own sanctuary and that there are various ways to bring an organ back to life. Work was performed by W. Lee Henricks Pipe Organ Service from Norfolk in 1997 with additional sets of older pipes especially suited to the original Moller organ, and additional digitally generated pedals to fill in where needed for the larger sanctuary. Because music has been a special part of our worship, we are blessed to have had the support of our membership to continue to enhance the musical instruments to accompany the choir and bring us an atmosphere of worship that is so meaningful. Take time to savor the sounds Jean finds in our organ. – Florine Moore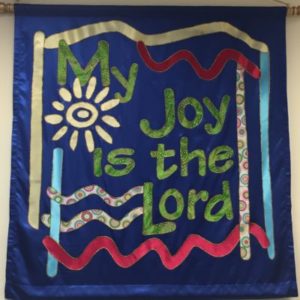 Sara Vogeler, Director of Music & Worship Arts