Welcome to Trinity United Methodist Church
If you're searching for something to believe in and a place to belong, you are always welcome here. Join us at Trinity for a service, a program, or a lifetime.
Trinity Mission Statement
Reach out to people where they are,
Encourage people to come to Christ,
Accept people for who they are,
Connect people to Jesus and each other,
Help one another grow in Christian Discipleship.
Trinity Vision Statement
Trinity United Methodist Church will be a church where people experience the transforming love of Christ in worship and faith-sharing, then express this love in mission and service as we grow God's Community.
Job Announcements
Trinity United Methodist Church is currently hiring for 2 open positions:
Youth Director
and
Church Organist
. Trinity UMC is a strongly relational, intergenerational and large congregation that continually seeks to become a more integral part of the tight-knit Smithfield and broader Isle of Wight communities while sowing the seeds of the Gospel.
Youth Director
: The Director of Youth Ministries (part time, 25/hours) will be responsible for organizing, leading and directing relational ministry for youth (6
th
-12
th
grade). This presently includes Sunday mornings and evenings as well as regular fun outings and mission trips. Please send cover letter and resume to
trinityumcsmithfield@mytrinity.org
by January 25, 2020.
Click here for complete job description.
Church Organist

: The Church Organist (part time, 10/hours) is tasked with playing the organ for the 11:00 worship service, playing for choir rehearsals, and serving as an in-house substitute for other church musicians. Please send cover letter and resume to music@mytrinity.org. The position is open until filled. Click here for a complete job description.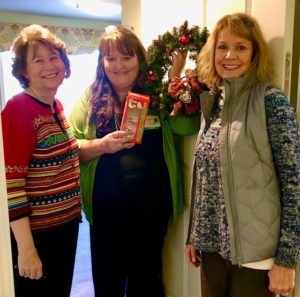 T-Mail is Back!!!!
T-Mail has resumed!
Are you signed up to receive church T-Mail? Have you changed your email address in the past few years? Do you have a new email account? T-Mail is an email that you will receive from the church. Trinity uses T-Mail from time to time to share important church-wide announcements such as a death of a church member, a church-wide gathering, or special church-wide event. Use the subscribe form on his page or use the link (
www.mytrinity.org/t-mail
) to add your email address to receive T-Mails. Even if you have registered before, it is recommended that you re-register to be certain.
A Good Way to Know if You're Registered for T-Mail: T-mails are now sent out on Saturday mornings with the announcement for the Sunday the day after. If you are not receiving them, please check you spam/junk folder, or, register your email.
Share the news with your friends and groups!
We are a small group church. Help spread the news about our T-Mail system with your groups and friends. The direct link for T-Mail registration is (www.mytrinity.org/t-mail).
Please submit any T-Mail requests or questions
to Richard Winfree at (
tmail@mytrinity.org
).
Small Groups and Worship Services
Trinity United Methodist Church is a thriving church with worship styles and small groups to fit everyone. A definition of "small group" provided by John Wesley in the General Rules: "… a company of [persons] having the form and seeking the power of godliness, united in order to pray together, to receive the word of exhortation, and to watch over one another in love, that they may help each other to work out their salvation." Life happens in circles not rows.