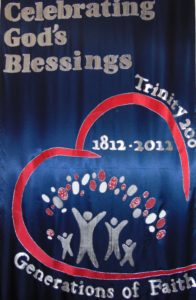 About our Team
Trinity's Banners Team is group of volunteers that designs and constructs beautiful worship banners. These banners are hung all throughout our church to include our meeting rooms, sanctuary, and family activity center. The vidid colors, artistry, and symbolism in the banners provide another dimension and insight for worship and our church activities. The banners range in size from just a few feet wide to large enough to scale our tallest walls. They are constructed of satins, silks, cottons, and a large variety of adornments like ribbon, lace, and even jewels. It usually takes about 6 to 8 weeks to finish a banner, including planning, drawing the pattern, and shopping for materials. The team has made a vast collection of beautiful banners for every season. Team members are modest about their accomplishment and claim no special talents are needed but together as a team they produce works of art.
Banner Photo Gallery
Please click the blue button to visit our banner team photo gallery and view more worship banners.
Learn More
Contact our church office to learn more or to connect with our Worship Banner team.