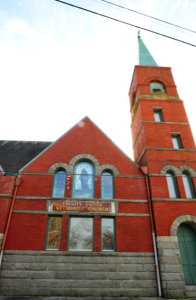 As we begin our third century, Trinity is a vibrant, dynamic and growing church with strong connections to our heritage.Our programs and ministries strive to meet the needs of our modern congregation and our modern world. We now have three services each Sunday: both an early morning traditional service at 8:30 and a 11:00 a.m. service, and a thriving contemporary service at 9:30. We have nursery care options, children and teen groups, and adult studies on Wednesday night. We emphasize our children's and teen programs as well as offering outreach to our seniors and those who are not able to join us for regular worship.
We are an inclusive church family which welcomes everyone and we value the diversity of our membership. We strive for open hearts, open minds and thus open doors for all of God's people to follow Christ within the context of Trinity Church.
Over the last several years, Trinity has placed a growing emphasis on our mission work, both domestic and internationally. Our teams have responded to catastrophic devastation such as resulted from the Haiti earthquake and Super Storm Sandy. We have joined teams performing other mission work around the world including building schools, rebuilding houses, and missionary work spreading the message of God's love. Our volunteers have also responded to flooding and hurricane damage close to home. And we go to those places with ongoing mission needs. Wherever there is a need, we try to be there.
We also reach deeply into our local community. In so many ways, Trinity is regarded as a community center. We sponsor programs for various community groups and we provide a place for gatherings. Our Family Activity Center has given us the space to expand our community outreach even more. We want Trinity to be used for the good of the community and we want it to be a place that all people feel at home.
Our other programs, projects and missions have expanded in countless ways. If anyone sees a need in the church or in the community, they are encouraged to speak out and to answer the call. There is constant activity at Trinity. The church is alive with people who are trying to share God's love and make a difference in our community and in our world.