DiscoveRING Joy

DiscoveRING Joy is a group for the youngest of handbell and chime ringers. This children's group rehearses on Thursdays from 6:30-7:30 in the Bell Room and is led by the Handbell Director, Tammera Missel. Children learn basic musicianship, note reading, rhythm counting, and performing in a small ensemble. This group is open to all children and no previous experience is required.
Celebration Ringers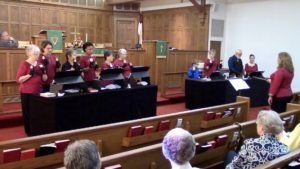 The Celebrations Ringer is the church's large ensemble handbell group. They ring on 3-octaves of Schulmerich bells. This dedicated group rehearses on Tuesdays from 6:30-8:00 in the bell room, This group is led by the Handbell Director, Tammera Missel, and is open to all. No previous musical training is required to participate in this group. Musical skills needed to ring the bells are taught during Tuesday night rehearsals.
Resounding Joy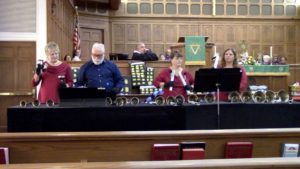 Resounding Joy is small ensemble handbell group. This quartet of ringers ring 3 octaves of bells while performing elaborate arrangements of beautiful church music. Rehearsals on Wednesdays run from 6:00-8:00 and are led by the Handbell Director, Tammera Missel. This quartet is an active a dedicated group in the church. Many of the quartet members also participate and lead other musical groups within the church. Most of them are seen singing with the Praise Team on Sunday Morning.
Director of Handbells
Tammera Missel is a Texan to her core. She is a lifelong Methodist and has served Our Lord and Trinity UMC as Director of Handbells since June of 2014. Music has always been a part of her life, she has played oboe, clarinet, flute, saxophone, and euphonium to name a few. Her passion for the handbells stemmed from her mother being a ringer. As a youth she began ringing in her church handbell choir and continued to ring intermittently since 1991. She studied music at Southwest Texas State University (now Texas State University), her Bachelor's Degree ultimately being in Criminal Justice. As Director of Handbells at Trinity UMC, she has added a small ensemble comprised of more advanced ringers, begun a children's handchime/bell choir and is learning more about solo ringing. After a successful audition in January of 2015, she was invited to join Virginia Handbell Consort, which is a community based advanced handbell choir. Trinity has a vibrant and expanding Music Ministry, of which handbells are but one part. To God be the glory of spreading His word through music.
Tammera Missel
Director of Handbells