Christian Outreach Program (C.O.P.)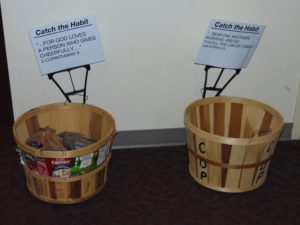 The Christian Outreach Program (COP)
C.O.P. is a gathering of local congregations working together to serve various community needs. Trinity has been an active member since the organization was formed in the early 1990s and our congregation has contributed time and resources to this great effort. Some of the programs and services provided by COP include sponsoring a community food bank, providing furniture, appliances and household items and assisting with medical and dental needs and supplies for those in need, sponsoring a heating assistance program, and providing donations to schools to ensure children can take school field trips and other events.
Catch the Habit for C.O.P.
The Challenge
The MAF Class, in response to a Sunday School lesson, began a project in mid-2006 to challenge each member to bring a food item each Sunday to benefit the Christian Outreach Program's food pantry. The class got "in the habit," challenged other classes as well, and eventually brought it to the congregation.
Catch the Habit
Thus "Catch the Habit for C.O.P." was born. We have a neat little slogan; we have a "cheerleader" who comes before the congregation several times a year to remind us to "Catch the Habit"; and she leads us in a little theme song. We have baskets to collect the food items all over the church. Volunteers count the food and send it off to the food pantry.
Like Leaven
It has taken off like leaven in a loaf of bread, and we have contributed well over 115,000 food items since the beginning.
The Power of One
It is a testimony to the power of one—one person bringing one food item each Sunday—one person making a difference in the life of a hungry person in Isle of Wight County.
The Foundation
Lord, when did we see You hungry…inasmuch as you did it to the least of these…you did it to Me. (Matthew 25:37-40 selected)
The Theme Song
(to the children's tune of "Are You Sleeping")
Catch the Habit, Catch the Habit, Each & Every One, Each & Every One
We are helping others, We are helping others
In Christ's Name, In Christ's Name!