Dan Elmore, Lead Pastor

Carolyn Hyman, Administrative Assistant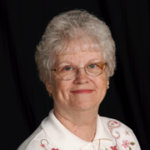 Carolyn is married to Bernie and they have three daughters and five grandchildren. Carolyn was born in Windsor, VA but grew up here in Smithfield, and graduated from Smithfield High School. Carolyn joined the team at Trinity United Methodist as secretary in August, 2003. She has been very happy here at Trinity, and loves all the members of the church. She is a member of the Seekers Sunday School Class and a member of the UMW. She has participated on Missions Trips to Kentucky and Nashville. Carolyn works part time, in the office with Brenda Cox.
Brenda Cox, Administrative Assistant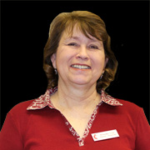 Although originally from Tennessee, Brenda grew up in Newport News and is a graduate of Warwick High School and James Madison University. She retired from Dollar Tree Stores, Inc. as Director of Lease Administration. She has served in other United Methodist churches as a youth coordinator, usher, Sunday School teacher, UMW Vice President, Council on Ministries Chairperson and Director of Missions & Children's Ministries. With the youth, she has participated in 12 mission trips to Appalachia and a VIM trip to Mississippi to help with Katrina disaster. At Trinity, she is a member of Seekers class, teaches 5th & 6th grade Sunday School every third month, and is Vice President of the UMW. She works part time in the office from 12:30pm to 3pm. Brenda is married to Richard, and they have one daughter, Amy.
Joyce Franklin, Minister of Visitation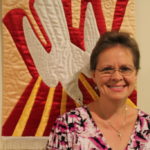 Joyce was born into a wonderful Christian family just outside of Windsor Va. and grow up there on the farm. After high school, Joyce fell in love and married Chuck Shumate, who was soon to become a Methodist minister in the Virginia conference. During their 33 years of marriage God blessed them with 5 wonderful daughters, 4 son-in- laws and 5 grandchildren (number 6 is on the way). Chuck and Joyce served 7 appointments in the Virginia conference. In 2013 Chuck went to heaven to be with his Maker. Joyce misses him greatly. He was a wonderful husband and father. These pass two years have been hard for Joyce; however it has also been an amazing time of experiencing God's love and healing power.
Joyce enjoys her family, and she also enjoys walking, swimming and going to the YMCA. Joyce has an Associate's Degree in Early Childhood development from TNCC. She enjoys working with many different generations in the church. However, the elderly and children hold a special place in her heart. She is enjoying visiting with the mature and wise members of our church community and hearing their stories because they have a lot of wisdom to share. We are excited for Joyce's ministry at TUMC.
Robin Griffin, Youth Director & Small Group Coordinator
Robin was born in Buffalo, NY In mid-July,
and has
happily accepted the position as Director of Youth Ministries at Trinity UMC.
Her
family has moved to Smithfield last fall and are enjoying getting to know the area. Robin has been involved in ministry for over 20 years, serving in many different capacities (staff and volunteer) such as youth minister, worship leader, Sunday school teacher and VBS coordinator etc… she has also served on several committees including Staff Parish Relations.
Kimberly Orrock, Director of Children's Ministries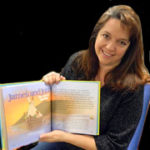 Kim Orrock is our Director of Children's Ministries. She grew up in Texas and has been living in Smithfield for almost 3 years. She earned a Bachelor's of Science Degree from Southwest Texas State University in San Marcos, Texas. Her teaching experience is varied including a natural science museum, Sea World, a rehab center for adults with acquired brain injuries, and a private Christian school. Her marriage to Jeff Orrock led her to live in North Carolina and now Virginia and together they have two beautiful daughters named Emily and Elizabeth. Their home is shared with a cat named Bella, a cockatiel, and a goldfish. Family time is very important to Kim. She especially enjoys spending time with her family playing games, cooking, doing crafts, and visiting science museums and zoos.
The children of Trinity United Methodist Church have been a blessing to Kim and she has enjoyed her time spent with them. Her lessons engage children through hands on activities, skits, games, cooking, science, and fun. She loves her volunteers who regularly come to her with ideas for missions, trips, and projects. She emphasizes the importance of prayer and how much God loves each and every child. Her goal is to make each child feel loved and valued.
Krystel Rogers-Cronk, Preschool Director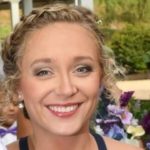 Krystel has been devoted to early childhood education her entire adult life. She attended Virginia Western Community College and Virginia Highland Community College with a major in Early Childhood Education (ECE). She began working in Education in 2007 beginning as a head Pre-K teacher; continued working her way up and eventually entering the administration field of Education in 2010. In 2014 she become center director for a national childcare care chain. While directing there, her vision for a different kind of childcare environment began to develop.
With help from her family, Krystel began to seek for an administration position in Christian Education. She is passionate about coupling faith with education and sees a need for children to have a healthy environment, positive guidance and faith based learning. She accepted the position of Trinity's Preschool Director in 2017.
In addition to directing the preschool, Krystel serves as our Young Adult Ministry Coordinator, MOPS (Mother of Preschoolers) Coordinator and serves as aYouth Aid Volunteer. Krystel and her high school sweetheart; Daniel, have 2 children; Riley (5) and Lillie (3). They love to travel, hike, and enjoy the company of family and friends.
Richard Winfree, Director of Music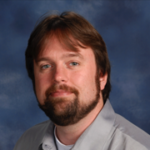 Richard has been playing piano since he was in the 6th grade, and have been playing for churches since he was 16 years old. He has always loved singing in a choir and making music with others. Richard holds a Bachelor of Music degree and a Masters in Music Education. In addition to working at Trinity as the Director of Music, he works in York County as an elementary music teacher. He loves having the opportunity to create music with everyone from 5 years old on up to 95.
John Cannon, Director of Media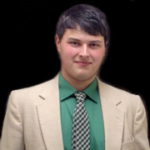 John can be seen in the balcony on Sunday mornings at the 11:00 service recording the service, and is also one of our youth group volunteers. He enjoys volunteering at the Smithfield Little Theater, has participated on a number of national and international mission trips and believes missions are a very important part of a successful church ministry.
Nancy Pile-Griffin, Lay Leader

Nancy was born in Newport News, but her family lived on both sides of the James River for most of her life. On their farm in Morgarts Beach, she grew up helping with her mother's organic gardening, tending the variety farm animals they raised and she and showed horses for years. Nancy was first introduced to Trinity at the age of 2. She remembers the "basement" nursery and early education Sunday school rooms with her friends as well as a multitude of changes in Trinity's structure and leadership throughout the years.
In 1978, Nancy graduated from Randolph-Macon Woman's College with a degree in Studio Art, she then traveled and worked in a variety of settings, before completing Nursing school in 1986. Soon after, she took a nursing job in Incline Village, Nevada on the north shore of Lake Tahoe, working and competitively with the Far West Masters before finally moving back to Smithfield. Once back in the area, she and Clay tied the knot and began to raise their family together in Trinity, too. Since 1993, she has, directed the Angel Singers children's choir, joined the Chancel Choir, led multiple Youth activities and served in Youth missions, helped inaugurate the Rivers of Life Praise Team, and joined the 2012 Haiti Mission endeavor. In 2015, she initiated a Small Group entitled ART-FULL, which features lunch and a creative medium coupled with devotions and discussion of spiritual topics. She succeeded John Edwards as Lay Leader in December of 2013.
Nancy maintains her 32-year professional RN status and since 2010, she has served as her parent's home caregiver. She is a Certified Lay Servant, a Liturgist, and a certified UMCOR Early Response Team member. She offers the weekly 11:00 Children's Time sermons and continues to sing in the Chancel Choir.
She and Clay have raised their children on their own family farm. She enjoys caring for all of their animals, operating their small Peanut business, multiple physical and creative activities and the peacefulness of living in the country.
Her connection with Trinity runs deep and she cherishes her role as Lay Leader.
Agnes Wan, Organist
Primarily a pianist, Agnes Wan-Patterson began piano studies at age five. Her experience with the organ began while in seventh grade, when a Catholic nun introduced her to hymn playing at the organ and encouraged her to serve at her church. Since the age of 15, she has been playing for church services regularly. Agnes holds a Doctor of Musical Arts degree from the University of Iowa and an Artist Diploma from the University of Cincinnati College-Conservatory of Music. She is an Assistant Professor of Music at Virginia State University, and also teaches piano at the College of William and Mary. She and her husband Gary live in Suffolk with their two boys.
Becky Ringler, Pianist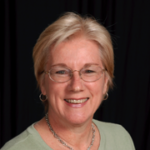 Rebecca is a Brittle girl from Wakefield, VA and played for her church there growing up. She has loved music all of her life, and besides my family, was encouraged to play and sing by older musician friends. (The singing came later.) Rebecca moved to Smithfield in 1987 and started going to Trinity soon after moving. She has been involved with the early service since it began. She and her husband, Terry have 2 grown children, and 1 grandchild with another expected in May.
Judy McNure, Nursery Coordinator
Judy has been the nursery coordinator at Trinity for 3 years. She is also an Algebra teaching assistant at Smithfield High School. Judy is married and has 3 sons. She often enjoys chaperoning school and church events.