Reaching Out through Our Mission Belief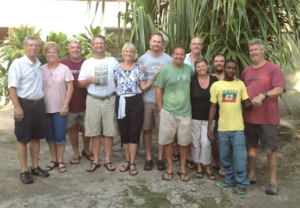 We strongly believe in the importance of "community serving community, for the transformation of the world." With God's help, we work together to build a healthy faith-life community that is ready and willing to serve others locally and globally. Whether it is through our partnerships, with nearby schools, or missions to far off countries; at Trinity there is a opportunity to serve that will fit for everyone.
Please read on to learn more about our programs, services and ministries, missions and more. In addition to the more structured programs and missions, groups of Trinity volunteers are known to quickly respond to less formal local emergency needs, whether from our congregation or from others in the community. Our volunteers have built ramps for home access, found places to live for those in need, provided food for hungry families and otherwise been caring neighbors. A long standing tradition at Trinity is the chancel offering on the first Sunday Communion. These funds are collected and used by the United Christian Ministries to provide immediate relief to those in great need.
Serving our Community
It is our mission to serve as a beacon of caring, hope, and inclusion for the entire community.
In so many ways, Trinity serves as a center for our Smithfield community. We have long sponsored programs for various community groups and provided a place for gatherings. Since the addition of our ambitious Family Activity Center in 2004, we have been able to expand even more our community outreach. The FAC not only provides more space for church functions and fellowship opportunities but it reflects our increasing emphasis on reaching into the community and providing a center from which to serve its needs. We host Souper Saturday, the Mission of Hope, blood drives, community church services, weddings, meetings of all kinds, support group meetings, civic club activities , wedding receptions, music programs, special lectures and other events. We sponsor Cub Scout and Boy Scout troops and we serve as a meeting place for several Girl Scout troops, and other church congregations meet in the FAC. We want Trinity to be a place that all people feel at home.
Nurturing our Flock
As Trinity has grown in numbers, programs, services and ministries, the diversity of needs of our congregation has also grown. Taking care of each other and our neighbors is a primary focus of this congregation. Trinity individuals, Sunday School classes, and other groups also respond to individual needs and situations with caring and compassion.
Missions
Building on our long tradition of reaching out to help our neighbors, Trinity members have since the 1980s unselfishly responded to great human need both in our community and around the world by serving on mission teams.